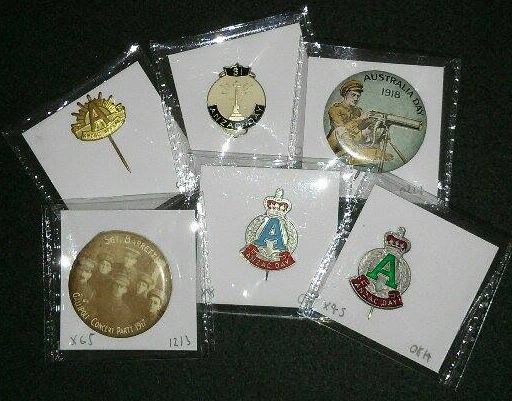 The PP team were contacted by an ex-collectable dealer with a dislike for PVC storage materials just as much as us! He noted some of the perils of storing phonecards in PVC pages having the cards stick to the pages and transfer the ink from the cards onto the pages and having them rendered worthless.
These days this gentleman is a collector of badges and his questions related to the ideas of storing his badges in our coin album pages. What a brilliant idea! I relayed to him that storing badges of any sizes would be best done in archival safe Saflips which can be heat sealed using an impulse heat sealer to make the pocket smaller to house more than one badge and to seal the Saflip for an airtight long term solution. Badges come in all shapes, sizes and widths too, slightly different to coins but the storage methods for these use the same principals that apply to coins.
An impulse heat sealer can be used to weld the Saflips to make smaller compartments to uniquely store whatever size badge you have. They can be trimmed or cut as you wish and sealed to create an airtight storage solution.
To store these without problem in The Purple Penny 20 pocket coin pages you mustn't trim the Saflips any smaller than the 2×2 size. By all means weld the Saflip to seal and store 2 (or more) badges or coins in the one holder but leave it intact (2×2 size) to easily slide into the page pocket. Saflips are double pocket flips so it's like getting 2 for the price of one! Each pocket of the double pocket Saflip is 2×2 size and can be easily cut in half. The properties of polypropylene mean that the pages are a little slippery so care must be taken so you don't lose the Saflip out of the page pocket.
An option further to this is sealing the Saflip into the 20 pocket coin page. If you purchase a large enough impulse heat sealer (our 400mm one came from eBay) you can easily weld the pockets closed. If you wanted a page with more compartments you could then easily create your own welds making the size to suit the badges you need to store. Keep in mind that Saflips are the only way to create an airtight seal. To simply put the badge (or coin) in the page pocket and weld it shut will not allow for a completely airtight seal.
Thank you to this gentleman for the inspiration to write this article. It realises that our storage methods can be used in a variety of different ways to suit YOU! Whether it's coins or badges or other collectables everyone has their own preferences for storage and The Purple Penny products can be adapted to suit whatever you collect. Whatever your choice, an archival grade solution should be sought to keep your collections as good as they were the day you bought them.