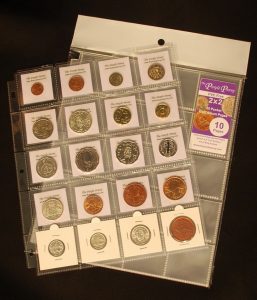 At The Purple Penny we pride ourselves on caring for your collection. We only offer PVC FREE, acid free, coin safe archival quality premium products for the safe storage of your prized collection.
Many coin collecting storage products available today contain or are made from non-recyclable PVC (polyvinyl chloride). As these products age they become unstable and leech harmful chemicals and acids onto your coins. These chemicals permeate through the mylar in cardboard 2×2 holders leaving residue on your coins or the acids eat away at the coin surface. Any folders, coin albums, coin pages or coin holders containing PVC are detrimental to the health of your collection. It is well known that glues in self adhesive 2×2 holders can affect toning on coins and leave nasty residues. They can also pop open and leave adhesive residue on your coin when it falls on the sticky surface. Staple-type cardboard 2×2 holders are better but it's important to be extra careful with the staples as many coins have been damaged from the careless use of a stapler. A fresh staple scratch on a coin surface can take hundreds or thousands of dollars of value from a collector coin.
We recommend the use of of Polypropylene (PVC FREE) coin albums and coin pages and the use of Saflips for the storage of your coin collection.
The Purple Penny offers completely safe products that won't turn on your coins or banknotes. Our coin albums are made from PVC-FREE, non-toxic, chemically inert, fully recyclable polypropylene (PP) perfectly safe for coin and banknote storage. Team these up with PVC FREE polypropylene (PP) album pages and 2×2 Saflips and your coins will be safe from harm. You'll rest assured your collection is in good hands.
The materials and manufacturing methods used to make our accessory products are the same as those used in storage solutions that are approved and used by the National Archives of Australia (N.A.A.) and the National Film Archive.