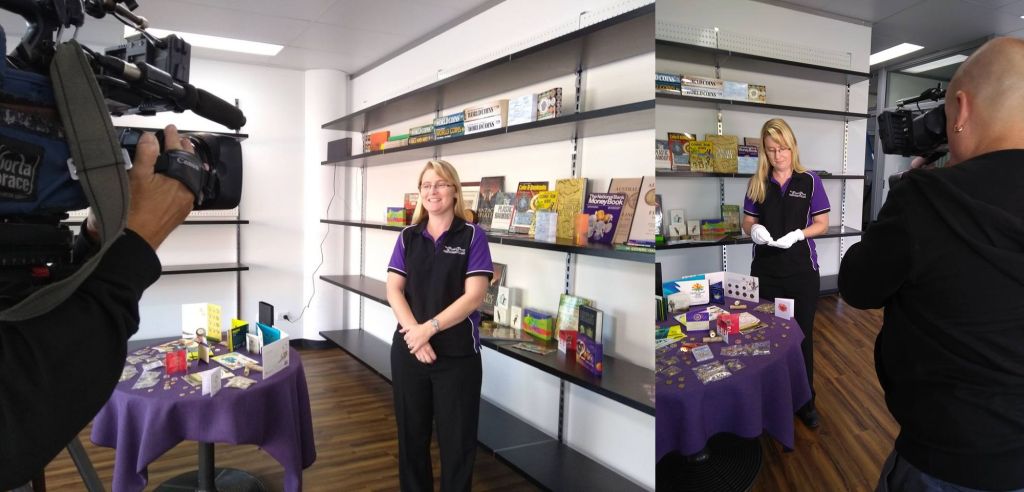 We recently spoke with a reporter for Channel 9 news about coloured $2 coins and their interest to collectors and I mentioned an error coin that came through our hands recently. That coin was the 2019 Mr Squiggle Bill the Steam Shovel that was mistakenly printed with the colour on the wrong side of the coin. Such an obviously wrong coin with the coloured circle over the Queen's portrait this coin sold for a 4 figure sum over $6,500. The news couldn't believe what they'd heard that an error coin made that much money in the marketplace. With only a handful of these bullseye or paint on the wrong side error coins this was the first known on a Mr Squiggle series issue. Before we knew it we had a news crew at our new shop (more details on that soon) filming for a story featuring the recently sold error coin.
Link to the News segment video.
9 News Queensland
The news story aired on Friday 26th April 2019 to Brisbane local audiences and mentioned the "finder" of the coin almost spent the $2 on a loaf of bread. An interesting extension of that story is that the error coin surfaced in Tasmania, the husband found the "funny looking" $2 in the console of the car and spoke to his wife about the coin to which she said bring it home and I'll take a look. Later the coin could not be found and after a search of the house it turned up in the back of the couch!! The Purple Penny was then contacted for coin error advice and the rest is history.
The wrong paint error coin can be found here:
Australia 2019 $2 Mr Squiggle Bill the Steam Shovel Paint on Wrong Side Error